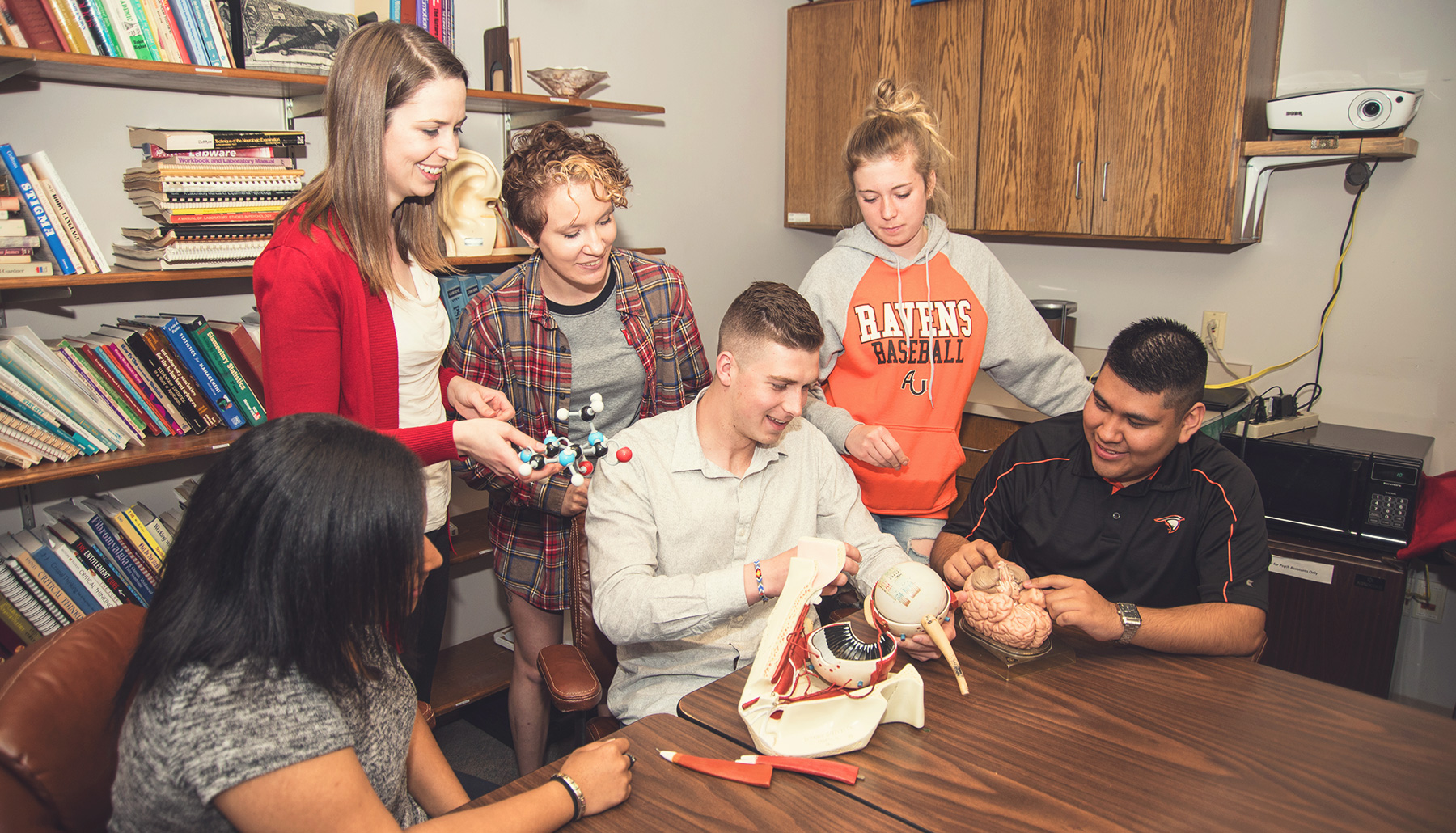 Psychology
School of Humanities & Behavioral Science
Psychology is the study of behavior and mental processes. It crosses many disciplines including biology, sociology and religion. The psychology program at Anderson University prepares students for working with people. By the time they graduate from the psychology program, they will be prepared for graduate work in psychiatric social work, professional training in clinical or counseling psychology, working with families, personnel work in industry, pre-ministry, careers in the not-for-profit sector, working with handicapped individuals, or for careers in teaching and research.
Program Overview
Psychology
Graduates of this program will be given a solid background in the theoretical and applied study of Electrical Engineering, having been exposed to various techniques and instrumentation. Students will also have the opportunity to expand their creative abilities through design courses that challenge them to engineer products with cost and resources in mind. Whether the product is to be deployed in rural Africa or is being developed by a small start-up firm, materials and cost are becoming increasingly important. The ability of engineers to "be creative with less" is more essential than ever. 
Program Options
Major
Psychology (liberal arts emphasis): This major is for students not planning to attend graduate school in psychology. Classes vary according to the individual but typically include classes such as General Psychology, General Psychology Laboratory, Psychology Propaedeutics, Interpersonal Relationships, Developmental Psychology, Abnormal Psychology, Counseling and Psychotherapy, Personality Theory, Philosophical Issues for the Psychologist, and an independent study course or research project.
Psychology (pre-professional emphasis) (37 hours): The pre-professional psychology major is a recommended sequence geared toward the student who is majoring in psychology and plans to attend graduate school in psychology. The recommended program consists of psychology courses such as General Psychology, General Psychology Laboratory, Applied Statistics and Introduction to Research, Critical Issues and Theory in Psychology, and at least 26 hours from upper-division psychology courses.
Complementary Major
The 26-hour complementary major in psychology combines courses in psychology and varying hours from a primary field. The program includes General Psychology, General Psychology Laboratory, and at least 12 hours from upper-division psychology courses.
Minor
The psychology minor (16 hours) requires General Psychology and at least six hours from upper-division psychology courses. Students have the opportunity to be a part of Psi Chi, National Honor Society for Psychology.
Experience
To gain valuable experience, students have an opportunity to work in the psychology department and the local mental health facilities, and to pursue relevant summer employment or internships.
Independent-study opportunities are available, including the chance to do original research and/or be involved in leading or facilitating assertiveness skills training programs for a variety of personnel, including Girl Scouts, individuals in an abuse shelter, or college leaders.
Careers
Caseworker
Child Development Specialist
Teacher or Professor
Criminal Investigator
Psychology Internships
After taking Interpersonal Relationships Class her sophomore year, Denisse knew the class had an impact on her life and her relationships so much that she wanted to take the material back to Mexico City and let it impact other people's lives as well. She worked alongside Dr. Wayne Priest, professor of psychology, in bringing her idea to fruition by spending a semester translating the material of the Interpersonal Relationships Class from English to Spanish. Dr. Priest recommended Denisse pairing with Dr. Tim Fox, professor of Spanish, in the translation of all the practical materials including flowcharts of the skills, PowerPoint presentations, and the observations and feedback sheets.
Throughout the process, Denisse kept in touch with her pastor at Fuente de vida Toluca in Toluca, Mexico State, as he was interested in the project and helped her figure out the logistics of the event.  Denisse spent the summer in Mexico and taught the skills to approximately 72 people which consisted of 9 groups of 8 people each.
Along the way there were complications and challenges but I know that the preparation I have received from the department of psychology at Anderson University gave me the necessary skills to overcome all of those. I feel so privileged that the professors trusted and encouraged me throughout the process. I am also very honored to have witnessed the material of the class impacting people across the border and being a small part of that impact.

Denisse Bastida Ramirez BA '18
Psychology Alumni Testimonials
All the professors in the psychology program had their own unique impacts on me but one common theme was consistent through it all…they were all in my corner and I never lost their support. Through the exams, the projects, the late nights, they were always there to offer advice, criticism, and investment. All the qualities I knew that would help grow my education at AU. And a little PSA to all students at AU and incoming students…If you have the chance to take Interpersonal Relationships class, DO IT. I promise it will be uncomfortable and it will be unusual, but it will change your life. It taught me life skills I use every day and if you can fit it in your schedule, please do! It does not matter who you are, you will be changed and also see the change in others.

Ben Belt BA '17, Neighborhood Liaison at Children's Bureau
While studying psychology as a student at Anderson University, I had the privilege of being an Interpersonal Trainer. I taught interpersonal and assertiveness skills to my peers in the classroom setting and to the community at conferences, schools, and workshops. I'm currently a therapist and Licensed Professional Counselor in Colorado, working with adolescents in the area of depression, anxiety, trauma, and self-worth. I train my clients in interpersonal and assertiveness skills, daily utilizing the different techniques and role plays I learned and trained for at AU.

Michael Heckendorn BA '12
OUR Psychology FACULTY
Let's connect during your campus visit.